MLB Pitch, Hit and Run
Fly Ball Contest: Saturday, 12pm - This is a Spelling Bee style competition, a catch keeps you in, a drop eliminates you unless all others in that round drop, too. PM and JR Leagues will compete on Diamond #4, SR League will compete on Diamond #3. Due to time constraints we will limit this competition to 2 players per team to be nominated by their coach.
Home Run Derby: Saturday, 3pm, Diamond #2 - Each competitor will get 10 "outs". The player with the most HR's hit wins. If no HR's are hit, the longest ball hit in the air will win. 1 player per team may compete as nominated by their coach (2 per team in the SR League). This event is a lot of fun and we encourage players to come and root their teammates on!
HR Derby Fundraiser: Saturday, 4pm, Diamond #2 - $5 for 5 outs, all coaches, parents, umpires and fans are eligible to compete. Top 5 will advance to the Championship Round.
Rain Out Plans

Special thanks to these local businesses.


Hy-Vee has helped Boys Baseball with fundraising by selling ICBB the coupon books that every player receives at the beginning of each year. These provide a steady source of income for the league.

---

Congratulations to our Tournament Champions!
Schedules

Practice Schedule

We have at least 2 teams that could use a player or 2. Due to conflicts and other circumstances these 2 teams are in danger of being short players for several of their games this season. We are re-opening registration for the Senior League (Ages and 11 and 12) and hope to recruit a few more players to round out our rosters. To all associated with ICBB please encourage any boys of that age to reconsider baseball for this Spring. We have a couple of teams that need them!
Orioles
Cubs
Cardinals
Tigers

Pitching Machine League

Braves
Twins
Angels
Pirates

Junior League

Tigers
Cubs
Rockies
Twins

Dodgers
Royals
Rangers
Cardinals

Senior League

Mariners
Cubs
Pirates
Blue Jays

Cardinals
White Sox
Twins
Dodgers
Players who purchase tickets to the game may be selected to participate in on-field activities and contests. Participants will be chosen in advance, and you will be contacted by representatives of ICBB by Monday, June 9th if you have been chosen.

Also, tickets can still be ordered through the Kernels box office up until Saturday at 5:00 PM (tell them you are with Iowa City Boys Baseball). Tickets can ordered online up until Saturday night at midnight.

Diamond Dreams is an instructional facility that provides camps, clinics, leagues, facility memberships and private/group lessons to players of all ages. They conducted their first clinic for Boys Baseball in 2010 and starting in 2011 have hosted the clinic in their facility. Thanks to the Diamond Dreams team for helping us offer professional instruction for our players and coaches!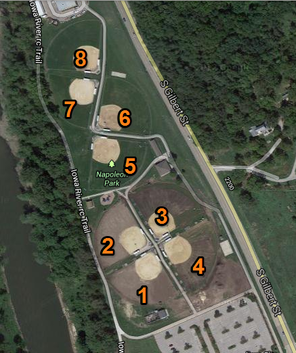 Napoleon Park - Parking is located both North and South of the diamonds. We recommend parking in the North Lot for games on 6, 7 or 8 and in the South lot for the other diamonds.
All teams are scheduled for (2) 1 hour practices each week for our practice season with a scrimmage scheduled for the last week of practice. Teams are encouraged to start the practices earlier or end them later if desired and sundown permitting. Coaches may schedule additional practices during the practice and game season at the Iowa City Recreation Division Website at not cost.
To schedule additional practices coaches can go to
www.icgov.org/pr
and click on the ActiveNetwork icon. They will need to create an account before they can reserve fields. Once the account is created they can reserve facilities and see what is available and pick their time and field. To avoid charges please note in the event field that the reservation is for an ICBB practice.
All requests come to the Iowa City Rec Office and not to Iowa City Boys Baseball.
Please join us for Iowa City Boys Baseball Day at the Cedar Rapids Kernels! This fun and exciting event for players, coaches, and families will take place on Sunday, June 10th at 2:05 PM. Gates open at 1:00 PM and players who attend the game will be able to participate in on-field activities and contests. Skyy Dogs USA will be at the game to entertain fans during the game, and kids can run the bases and play catch in the outfield following the game. ICBB families can buy tickets at a special reduced rate of just $7.00 for this game! Tickets can be purchased using the flyer distributed by your coaches, by calling the Kernels ticket office at
(319) 896-7560
, or online at the link below: (Please select
Section 113 or 114
to sit with other Iowa City Boys Baseball families.)
https://www.ticketreturn.com/prod2/Buy.asp?EventID=80356&promocode=icbaseball
Scores

Pitching Machine League

| | |
| --- | --- |
| American League | National League |
Junior League

| | |
| --- | --- |
| National League | American League |
Senior League

| | |
| --- | --- |
| American League | National League |
Frequently Asked Questions

These questions are certainly not intended to be an exhaustive list. It is here to provide information more quickly than an email or a phone call could possibly deliver an answer. If you need clarification on any of these points please contact a member of our board.

How are the teams formed?

We have 3 primary criteria when forming our teams.
Balanced rosters - We seek balance in our rosters in both age of the team and size of the team. These balances best ensure competitive parity and ensure the most opportunities for all players.

Maintain the ICBB tradition of meeting new friends while playing the best game in the world.
Assist ICBB families in a schedule that promotes carpooling.

We accomplish these goals by starting with returning players. Where players will be playing their second year in a league they will be placed on the same team. We feel this approach helps build teamwork and familiarity for managers and players. Players that are new to a league are then placed at random on a team. Exceptions can occur where a player did not play with ICBB last year. That player may be placed on a roster that has fewer of the older players in the league. This approach helps us achieve age balance from team to team and ensures no favoritism towards particular teams.
Starting with our 2013 schedule each league will play all of its games at the same time. We will assist carpooling by encouraging parents to choose the night that they would like to play on, M/W/F or T/Th/F. Our intention is to facilitate easy carpooling while giving our commissioners the roster freedom to make our first 2 criteria listed above possible.


What nights will practices and games be played on?

Our Pitching Machine, Junior and Senior Leagues play on M/W/F or T/Th/F. You will have the option to select the night you would like to play on. The Instructional League will play on M/Th.

I need carpool help to get my son to his games, can you help?

Starting with our 2013 season we are going to play all of each leagues games at the same time. Our early games start at 5:30 and the late games start at 7. Assuming our numbers remain consistent for 2013 the Pitching Machine teams (7 and 8 year old players) will play all of their games at 5:30pm and the Junior and Senior League teams (9, 10, 11, and 12 year old players) will play all of their games at 7:00pm. We hope to play the Instructional League games all at 5:30 as well. We have made this change to help carpooling with players in the same league an easy arrangement to make.

Where can my son play once he's too old for ICBB?

www.iowacityprepbaseball.org